windows and doors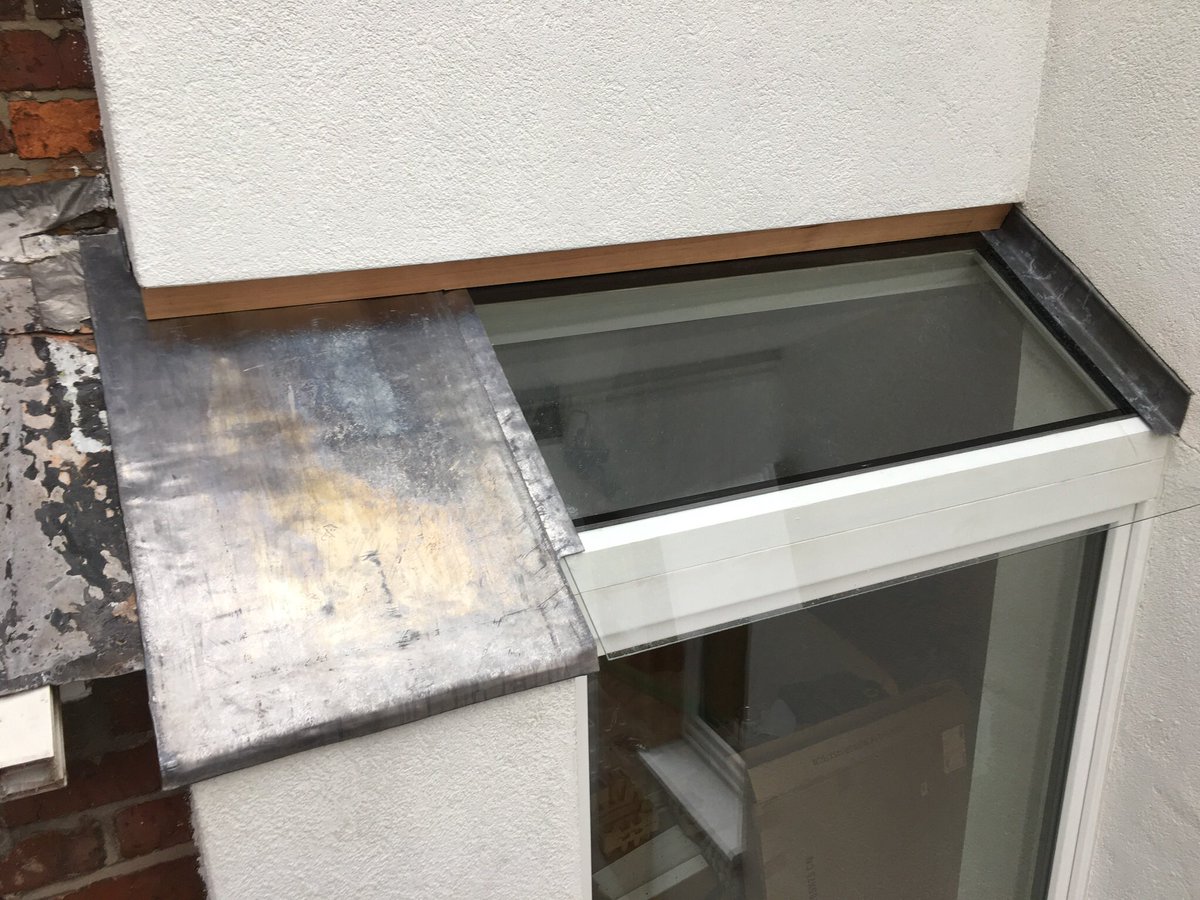 Retrofitted "Manchester" style window, custom fabricated for red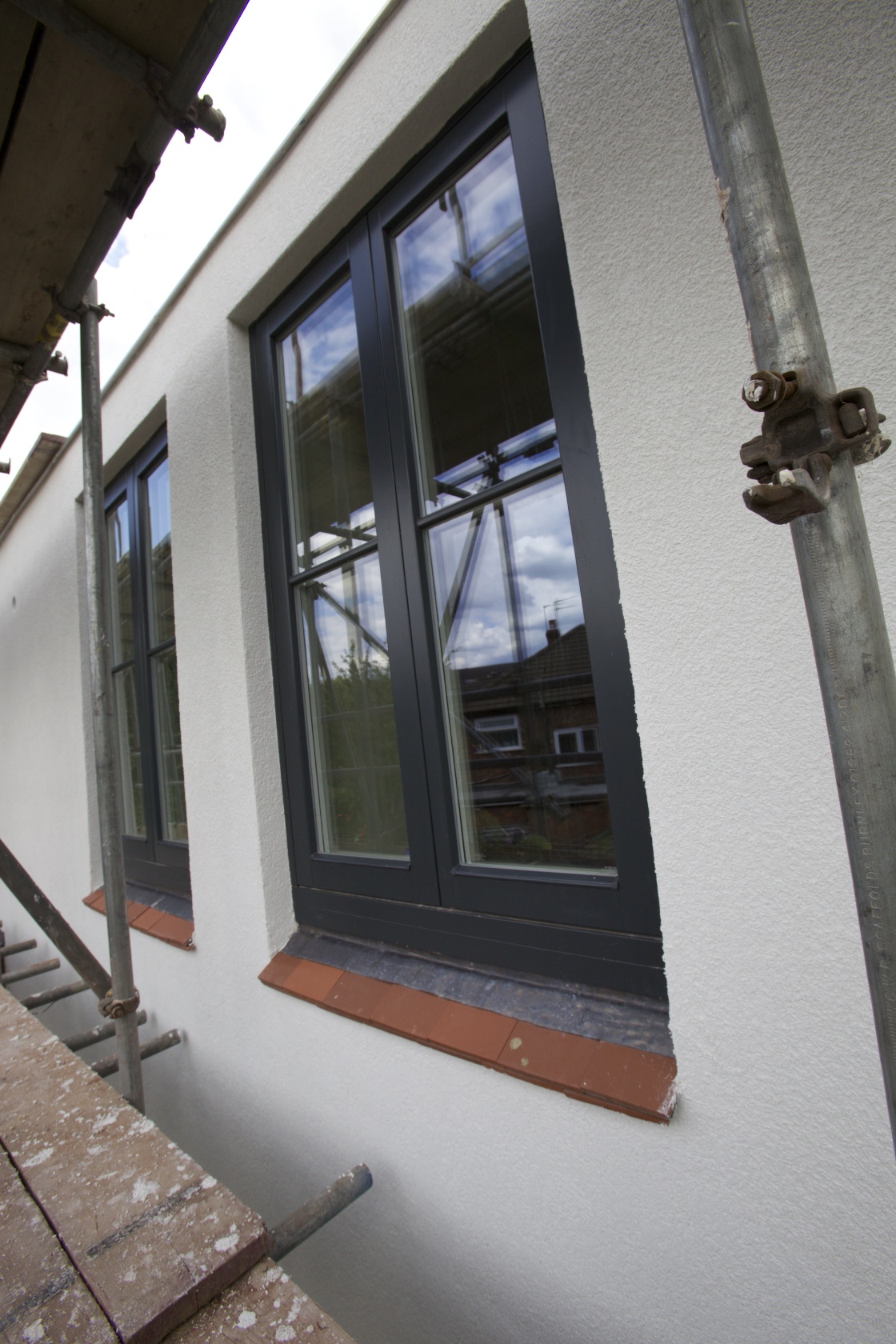 Where external wall insulation is installed but windows are kept, a reveal board and extended sill are required. 
This can be a proprietary woodfibre reveal board, a foam insulant reveal board for smaller depths or an insulated stainless steel window surround.
Where internal wall insulation is installed with existing windows, either a timber reveal or a plastered woodfibre board can be used. 
Where new windows are installed, this is acheived using a timber window box that allows the window to sit at the outside of the external wall insulation to maximise light and minimise cold bridges, forming a timber reveal inside the building.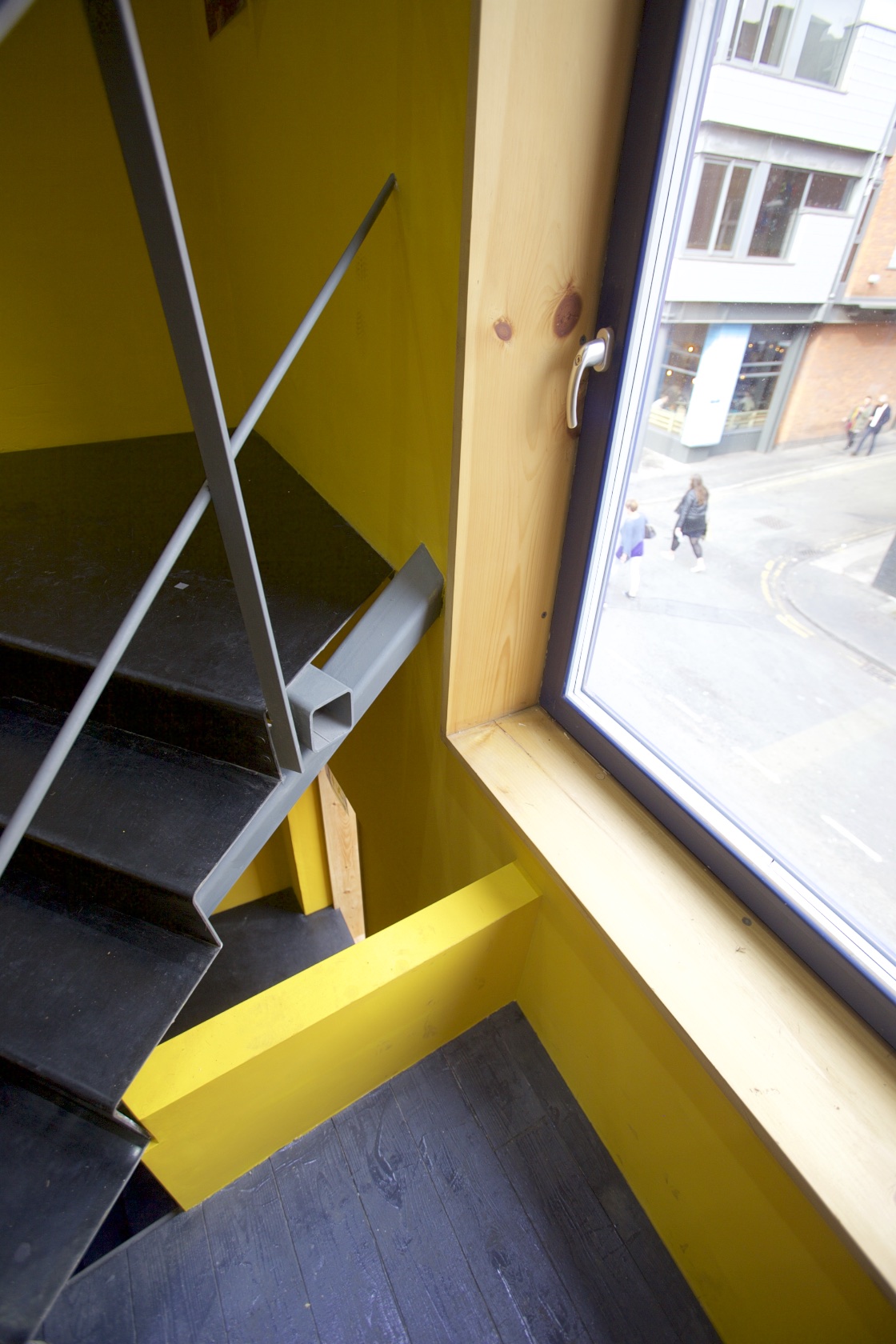 We work with Green Building Store to install high performance new triple-glazed low-e argon filled timber windows with warm edge spacers.
These are fitted in order to be air-tight and with minimal thermal bridging. Performance target : 0.8 W/m2.K.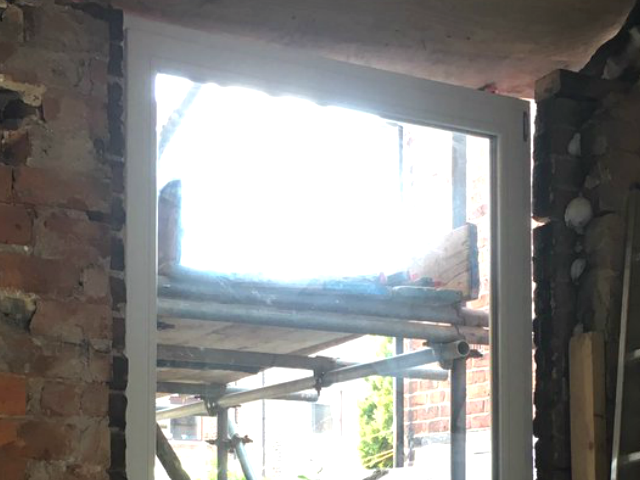 Dining room area triple glazed window window unit and frame introduced to cleared opening, prior to fixing and airtightness taping.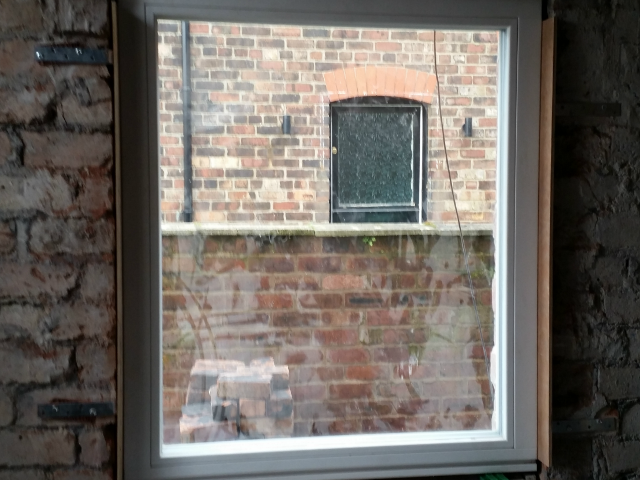 Kitchen window side fixed through frame with steel strapping into masonry.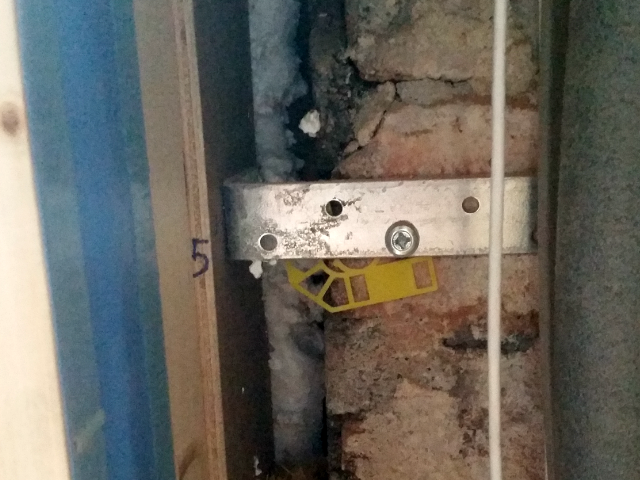 Steel strapping from window frame to masonry detail. 
Due to the depth of the internal wall insulation specified for this particular project, installing new windows and internal wall insulation to an existing kitchen outrigger, plywood extensions were first fixed to the window frames then the steel strapping -  allowing the secure fixing to the masonry.
Airtight expanding foam is used to seal any gaps from existing brickwork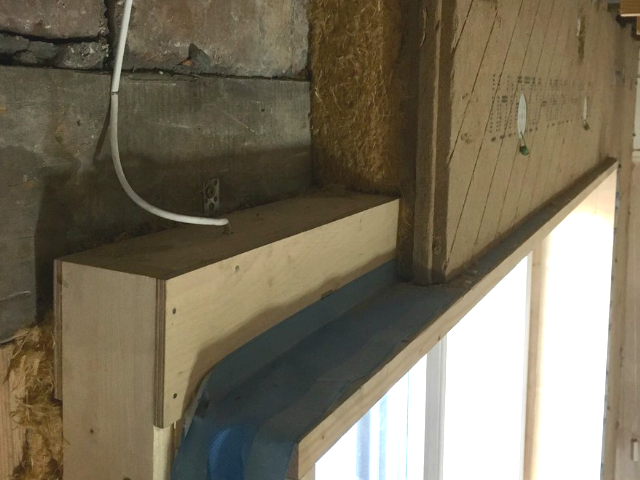 Detail of window reveal prior to full internal wall insulation.  Airtightness seal was achieved using Pro Clima Contega Solida airtightness tape.
For this project, the client specified powered window blinds - the box above the window frame accommodates blind and motor.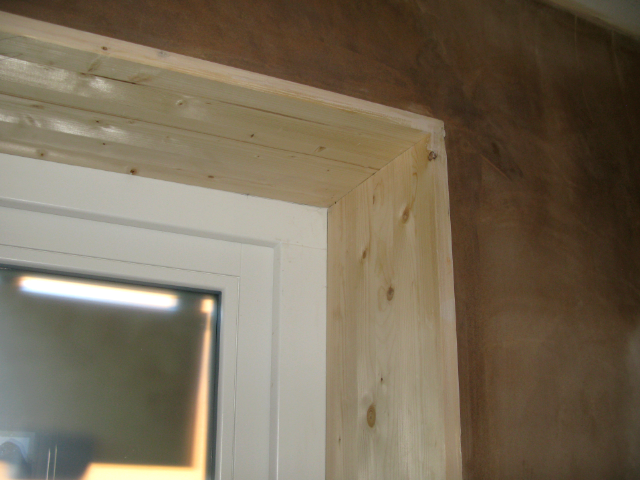 Interior door reveal detail, post plastering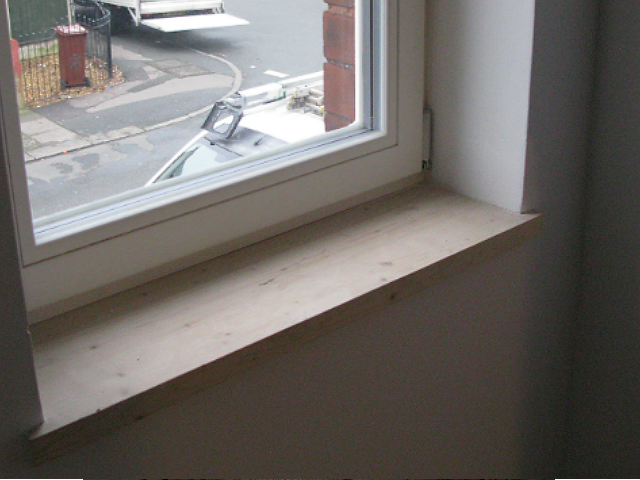 Interior window cill detail, post internal wall insulation installation and finishing coat of vapour control plaster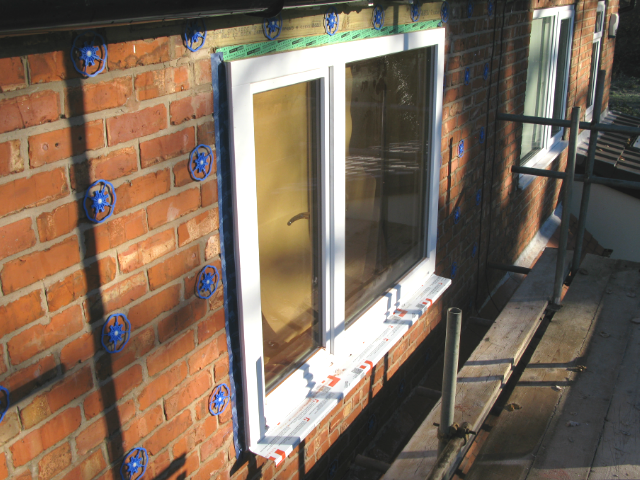 1st floor bedroom window, prior to Baumit OpenSystem external wall insulation installation.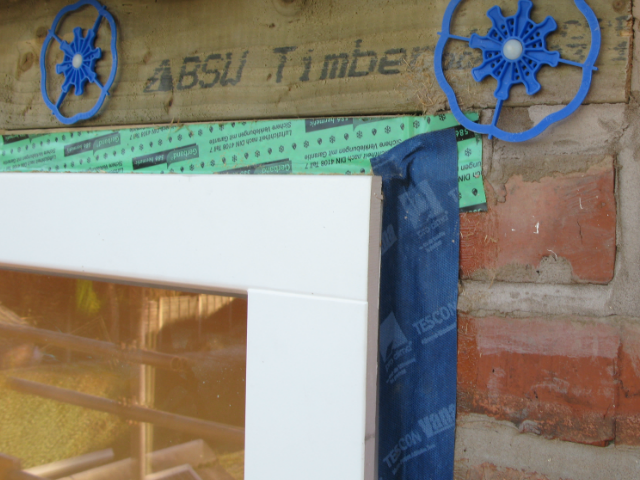 Detail of installed window.  A new timber lintel was installed, and the frame airtightness taped.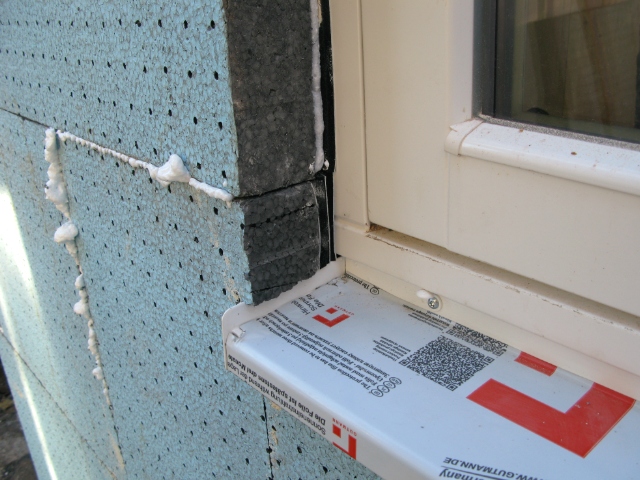 Image showing sill installed post window instalation.  Baumit Opentherm insulation boards were cut to slightly overhang the sill prior to the render system being applied. 
Expanding air seal tape was used to fill any voids resulting from variances in the existing masonry, up to approx 10mm, resulting voids were filled with airtight expanding foam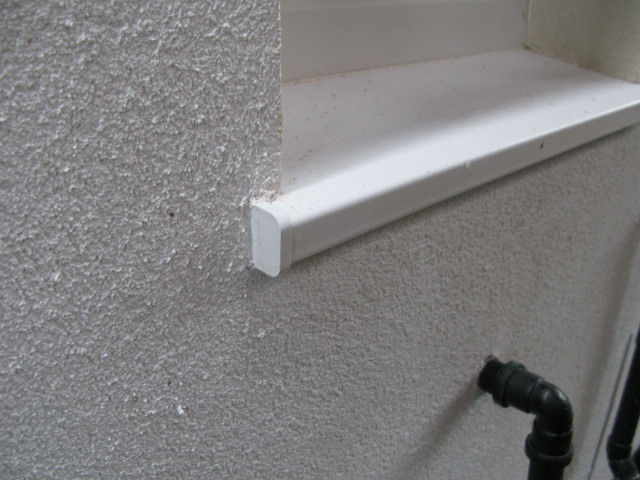 Window sill post final layer of Baumit nanoportop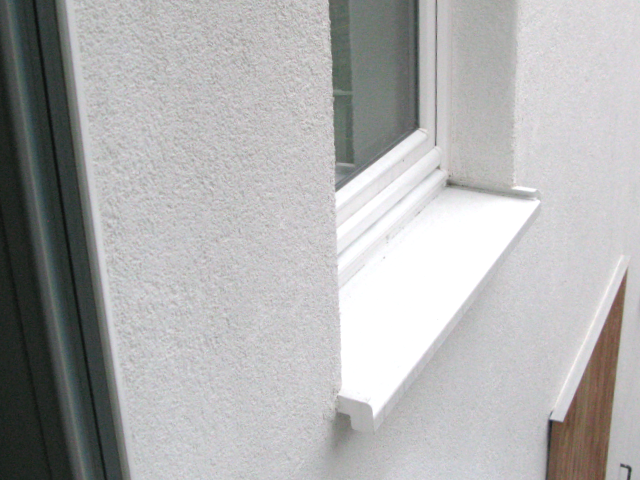 1st floor window sill post final layer of UdiPerl finishing render
Green Building Store also manufacture and install replacement triple glazed patio doorsets  Performance target : 1.0 W/m2.K.
If new windows are too expensive, it is possible to replace the opening casements within the existing frames with triple-glazed low-e argon filled timber windows with warm edge spacers. Performance target : 1.0 W/m2.K.
Alternatively fixed glazing units can be replaced within existing frames with triple-glazed  high performing glazing units.   Performance target : 1.2 W/m2.K.
Red can arrange unusually shaped windows, including Oriel windows and "Manchester" windows, in triple glazing.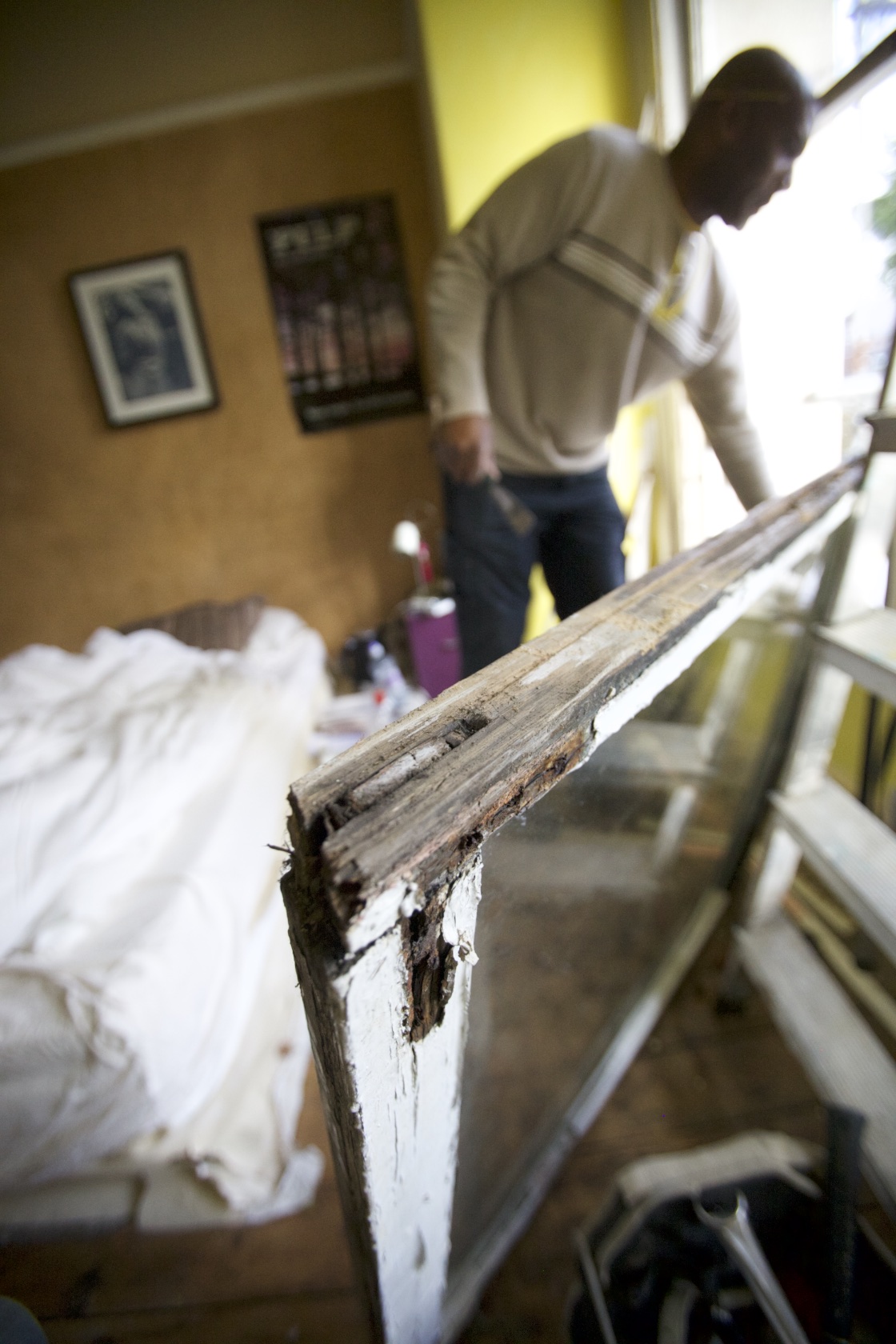 Where it is desirable to retain old sash windows these can also be refurbished : existing  staff beads and parting beads are replaced including brush seals, with additional brush seal routed into the back of the lower casement at the central join, existing glazing replaced with double-glazed low-e argon filled timber windows with warm edge spacers. Sash cords are replaced, additional lead weights as required by the additional weight of the improved glazing.
For non-opening windows including stained glass panels or glass blocks, high performance double glazed secondary glazing units can be fitted inside as a second layer. Existing window frames are fully draft stripped and re-sealed to improve air-tightness.  Performance target : 1.4 W/m2.K.
If doors are to be replaced, insulated timber external wood flush doorset   Performance target : 1.1 W/m2.K.
Further information is available in the Retrofit Pattern Book