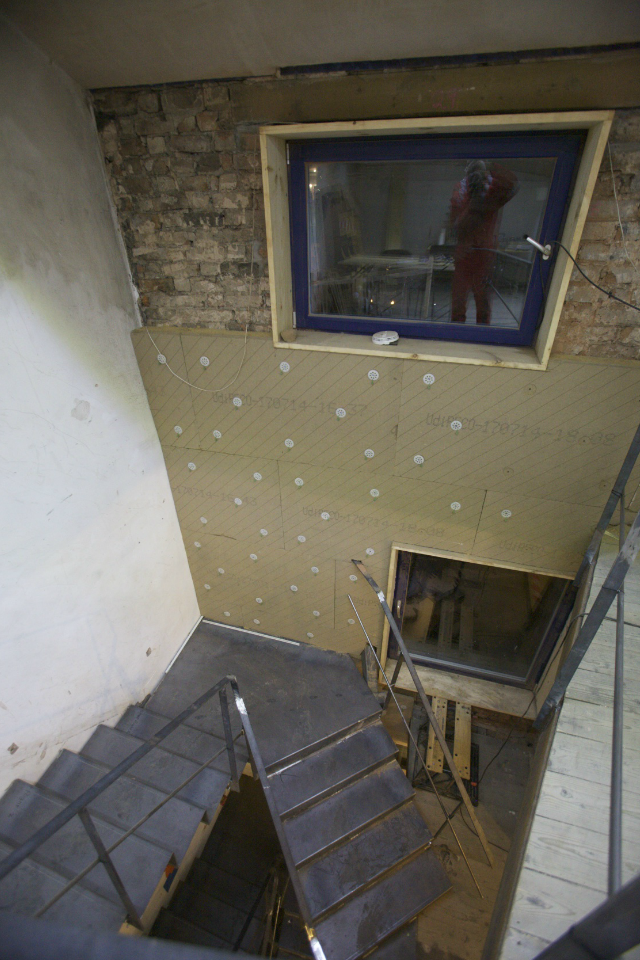 What's the best type of material for internal wall insulation?
Guest author: Chris Brookman (Back to Earth)
Having worked with Sarah and Charlie at Red for many years now, we've had countless discussions on which types of insulation to use where and when. Whilst it is obvious to us why wood fibre insulation works so well, I thought this might be a good opportunity to explain to others why it is such an important insulator.
Red work mostly around the Manchester area which, being on the West coast, gets a lot of rain and has high humidity levels most of the year round. Insulating buildings changes how moisture moves through and is stored in the structure at different times of the year, making it a very important consideration in such wet areas.
Well installed external insulation generally allows the building fabric to warm up and dry out but internal insulation will generally do the opposite. Whilst brick and concrete masonry are relatively insensitive to moisture, timber joists and lintels and also steel reinforcing do suffer with higher humidity.
Internal insulation
Insulating internally is often the best way to prevent thermal bridging and can be installed without affecting the outward appearance of a building. Generally you don't need scaffolding to install it and because it is not subjected to weather, the components do not need to be quite as weather resistant.
However, reducing the amount of heat flowing in to the external walls of a building reduces the amount of heat available to dry out moisture condensing in the walls during the winter months. It is therefore very important to use an insulation system that keeps the timber in structures dry and does not increase the moisture levels in the external walls.
Wood fibre insulation systems work on several levels to ensure performance and longevity. Firstly, most systems include a low level vapour control layer which can be either in the form of a plaster or as a layer incorporated in the insulation boards themselves. This reduces the amount of moisture flowing through the boards during the winter. Importantly, it still allows the wall to dry inwards as the weather warms up, ensuring no long term moisture build-up.
Secondly, the wood fibre material itself can store significant amounts of moisture without either damage or a reduction in insulation performance. This ensures that moisture is kept in the boards, away from timbers seated in the walls, ensuring joists do not decay and subsequently collapse.
Interestingly, this second property seems to boost the performance of the insulation. Measured in-situ U-values have been found to be up to 50% better than they would be by calculation. This is an effect that is not found by using the wood fibre externally and so is not an error in calculation or with the equipment used.
Synthetic Insulation
There are a plethora of different internal insulation systems available but they tend to only focus on the issue of heat loss. That might sound obvious but how they manage moisture, what their long term affect is on the moisture levels in the wall, what affect they have on timbers penetrating the insulation layer and whether they create the conditions for mould growth are serious considerations too.
Whilst glass or mineral wool based system are vapour permeable they do not have any moisture storage capacity and so cannot prevent moisture from accumulating in timbers. Foil faced insulation boards or Polystyrene may seem an option but , as they are impermeable to moisture, they tend to cause moisture to accumulate in timber and, by preventing drying towards the interior, in the wall to.
Some moisture impermeable systems use a cavity to overcome the issue of drying towards the interior. Unfortunately this is the perfect way to growth mould which can have very serious health effects on the occupants of the house. Mould spores are dangerous to those with poor respiratory health.
Conclusion
From my comments above it may seem that I am pro wood fibre insulation and anti synthetic insulation but this its not the case, I take a pragmatic view. We need to use insulation systems that perform and are not detrimental to either the building or the occupants. Currently, although some synthetic systems may offer a thinner layer for the same U-value and may seem very cost effective, they simply do not perform as required.
Wood fibre insulation systems are currently the only readily available internal insulations that fulfil all of the necessary requirements.
You can find out more about wood fibre insulation and Back to Earth on our website.
Retrofit component: internal wall insulation
Further information is available in the Retrofit Pattern Book