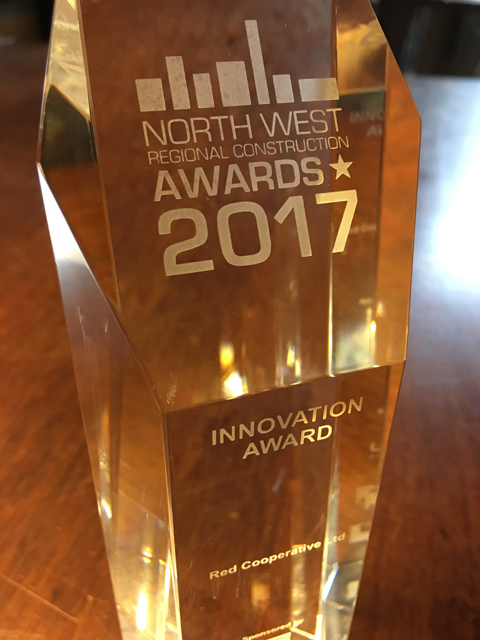 red are extremely proud to be the recipients of the 2017 North West Regional Construction Award for Innovation
"What makes this submission a winning entry?
Why do you think this work stands out from the crowd and how do you suggest proud to share this with the industry?"
In a period when retrofit has dropped out of public policy (despite the clear and pressing need) we have been able to continue to develop a suite of components that can be scaled up or replicated to build into credible retrofit industry, able to deliver the scale, depth and quality of intervention needed. 
This company makes some of the crucial steps needed to develop a national retrofit programme that can deliver cost effective interventions that perform as promised, which do not in themselves create huge waste or misuse of resources upstream or downstream. 
Our design led approach is a huge step towards making retrofit aspirational so that it becomes mainstream not niche, effective not token. 
We believe it is a winning entry because while none of the individual components are rocket science they have been brought together to form a deliverable system that can be relatively easily adopted by other parties who are sincere about making a difference for a viable future. 
This is before we get onto the economic development potential of this work: our estimates suggest that retrofit programme on sufficient scale to deal with all domestic properties over the 25 year window would be able to create and sustain 50-60,000 jobs in Greater Manchester alone, just on management and installation, with further job creation possible in component manufacture in the region. 
Financing this endeavour has the potential to improve the economic prospects of the region. On an individual level, we are making retrofit attractive. 
By taking a design led approach to retrofit (instead of the usual approach of trying to hide the fact that it has been done) we both make good retrofits more visible and demonstrate the huge regeneration potential of this endeavour. We know that our work increases the values of our clients' properties and makes them cheaper to run, more comfortable to live in and better for their long term health. 
Our innovation is about approach and methodology which means that the potential benefits of greater deployment of this could far exceed those that might be available from a single technical or product based innovation. 
Not only can it be much more widely adopted by any company able to access the skills, but it also mandates much greater collaboration across the full breadth of the supply chain from professional services to component suppliers and the trades to fit them. 
Finally, if it works, then it has the ability to form a major component of the creation of a zero carbon economy that delivers people from the scourge of fuel poverty, and enables all of us to live in homes - not only healthier for the occupant -but the wider environment.
"The judges loved this submission.

The approach of the team is very simple and collaborative yet the combination of great design and innovative business practices made this a highly exciting submission."
read the full award winning submission...